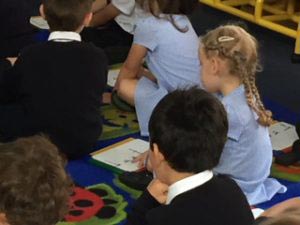 Following on from my last post, here, after three years of Sounds-Write, are the results from St George's CEPS at the end of Year 2.
As before, if you look at the table, which I have anonymised, you can see that 30 children in Year 2 (the end of their third year of schooling) did the Young's Parallel Spelling Test in June 2018. The average age of the children was 7.3 years; their average spelling age was 9.3 years; and they were, on average, 24 months ahead. No child scored below their chronological age. In fact, no child scored below 4 months ahead of their chronological age. At the other end, four children scored at more than three years ahead of chronological age.
Just to remind you, St George's school is located within one of the poorest catchment areas in South London. It has a very high number of children on free school meals and many children at the school speak a language other than English at home.
All the children who attended the school in Year 1 passed the threshold for the Phonics Screening Check. All asterisked pupils were new to the school during this academic year.
Well done to all the children and teachers at the school!
Name
Male/

Female

Age decimal
Spelling Age

decimal

1*
M
6.8
9.9
2*
M
7.4
10.2
3
M
7.5
10.5
4*
F
7.3
8.4
5
M
7.7
10.2
6
M
6.8
8.5
7
M
7.4
8.5
8
F
7.2
9.9
9
F
7.4
8.2
10
F
6.9
9.5
11
F
6.8
10.2
12*
F
7.8
8.6
13
F
7.5
10.2
14*
M
7.8
9.3
15
M
7.5
9.5
16*
F
7.0
8.1
17
F
7.3
10.5
18
M
6.8
8.6
19
M
7.0
8.1
20*
F
7.7
9.0
21
F
7.3
9.0
22
M
7.6
10.5
23
M
7.5
9.1
24
M
7.0
9.1
25
M
7.3
9.9
26
F
7.7
9.1
27
M
7.0
9.1
28*
F
7.7
8.1
29
F
7.7
8.2
30
F
7.6
9.5